Welcome to the Aiki Budo Fraternity

Welcome to the Aiki Budo Fraternity a non-political & non money making association of like minded Japanese Martial Arts clubs situated in England, Scotland, Belgium and Africa with associated clubs in Dubai and Sri Lanka. The ABF was founded in 1989 in Scotland by Chris Moslin, Andy Henderson, David Walker and Aileen Jeffreys to cement a long standing friendship between these instructors. Although the founding members were all Aikido the fraternity is open to any club practicing and teaching Aikido, Aikijujutsu, Jujutsu, Judo, Kendo, Iaido and Karate and related Japanese arts. All members within the UK are members of NAKMAS. At the moment, members of ABF in England are also members of Seibukan (England). All decisions are taken only after consultation with the senior instructor in every club and then on a majority vote. No one person can make decisions on his/her own.
Visit our associated martial arts schools page to find a club near you.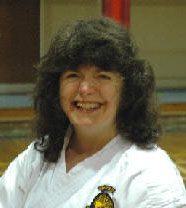 Aileen Jeffrey
It is very sad news to have to let everyone know that Aileen lost her battle with cancer and passed away peacefully, at Beatson Cancer Centre, Glasgow, on 30th Hanurary 2012. Aileen, beloved wife of Ed, much loved daughter of the late Gordon and Janette and loving sister of David and Kenneth. She was an inspirational person who enthused her students and friends alike. She will be sadly missed.
The Instructors and Students of the Aiki Budo Fraternity extend their sincere condolences to her family. Her funeral service was held at Cardross Crematorium on Tuesday, 7th February at 10:15am.
Article from The Sunday Post, Alexandria
A DEVESTATED widow has paid a loving tribute to his wife after she died 11 days into their marriage.
Ed Calderwood said his partner Aileen used the leap year to propose to him two weeks before she lost her life to skin cancer at the age of 49.
The couple, who had been together for more than a decade, had spoken numerous times about wanting to get hitched.
However, news that Aileen had just days to live made them choose to tie the knot before time ran out.
Ed (51) had been planning to bring Aileen home and was due to be trained on how to care for her.
But the day before she was due to leave hospital doctors said she was too sick to go.
That same night she phoned him to propose.
Ed said: "Aileen called and told me she wanted me to play Phil Collins' Groovy Kind Of Love at her wedding.
"I said 'what wedding is this then' and she said ours."
The couple got married in a conference room at The Beatson West of Scotland Cancer Centre on January 19 in front of a small group of friends and family.
Aileen's health was so poor she had to use a wheelchair during the ceremony.
Ed said he found it upsetting to see her in so much pain but kept his distress hidden "for her".
He said: "Everyone around us was crying but I was trying not to break down."
Sadly, less than two weeks later she was gone.
Ed from Dumbarton is struggling to come to terms with losing his "best friend" but said he feels she's watching over him.
He even refuses to smoke in the house because he wasn't allowed to when they lived together and feels she'd be annoyed if he started now.
Ed and Aileen were both motorcycle enthusiasts and met at a bikers' rally around 12 years ago.
They often went to racing events and spent many happy holidays at her family's caravan at Portmahomack in the Highlands.
It's clear that Aileen was loved by her local community.
Her funeral at Cardross Crematorium was attended by hundreds of friends and family.
Many said they'd never seen the crematorium so busy.
Aileen was also a founder member of local club Alexandria Aikido having taken up the martial art at the age of 19.
She excelled at it and was only the second woman in the whole of Europe to reach the grade of 5th Dan.
The club's vice secretary Christina Massey said Aileen was a wonderful person who could make you feel "like the most important person in the world".
She said: "Aileen's first thought when she was told she was dying was 'there's so much to organise'. Her second was how to keep the aikido club going.
"Even towards the end of her life, she continued to do all she could for the group.
"Days after she died, a suit was delivered to one of the club's members. Aileen had ordered it from her hospital bed."
Christina promised Aileen she would keep the club going and plans to run it in memory of her.
Ed now plans to scatter Aileen's ashes at the caravan park at Portmahomack this Easter with a group of close friends and family.
He said: "Aileen's mum's ashes were scattered at the park so I know it's what she would have wanted."